It's Finally February!! The love month and also my favorite month of the year. I turn 25 on February the 10th!! (woohoo!!) I have been thinking and thinking of ways to celebrate my 25th and came up with a lot of options but only one truly stuck out to me! So what are my plans you ask???
For my 25th birthday I have decided to do 25 Random acts of love (RAOL) throughout the month of February. I wanted to show God how truly thankful I am for my 25 years on earth. I want to show him my gratitude by showing others love.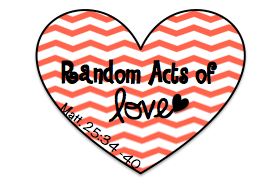 I keep hearing Matthew 25: 34-40
34

"Then the King will say to those on his right, 'Come, you who are blessed by my Father; take your inheritance, the kingdom prepared for you since the creation of the world.
35

For I was hungry and you gave me something to eat, I was thirsty and you gave me something to drink, I was a stranger and you invited me in,
36

I needed clothes and you clothed me, I was sick and you looked after me, I was in prison and you came to visit me.'
37

"Then the righteous will answer him, 'Lord, when did we see you hungry and feed you, or thirsty and give you something to drink?
38

When did we see you a stranger and invite you in, or needing clothes and clothe you?
39

When did we see you sick or in prison and go to visit you?'
40

"

The King will reply, 'Truly I tell you, whatever you did for one of the least of these brothers and sisters of mine, you did for me.'
I am so excited to complete this journey to celebrate my 25 years on earth!!! Be sure to check back everyday to see my new Random Act of Love. or Check on instagram using the hashtag:
#25RandomActsofLove
Please feel free to join me in these Random Acts of Love throughout February! Let's show God our love for him by loving others! Grab the image I created above and share share share!